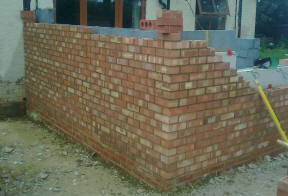 Bricklaying
Bricklaying is an art and like the great masters I expect my art to last for 100's of years. It is not surprising then that I studied for three years at Hastings College of Art in East Sussex before working as an apprentice bricklayer for a well established local building firm. In fact, I am one of the last generation of bricklayers to serve a full apprenticeship.
My work includes basic walling such as the modern extension in the picture above to far more complicated work. Depending upon the amount of work I have I am happy to sub-contract for builders or help people undertaking self-build schemes.
I am familiar with all bonds (patterns of brickwork) and I am also experienced in building using flint and stone. This means that if you need an extension added to an old Sussex property I can help you to match your new work with the existing building.
I normally work on my own, this helps to keep the costs down and allows me to concentrate on achieving a high quality finish. I am happy to offer a quotation for any project you are considering, large or small.